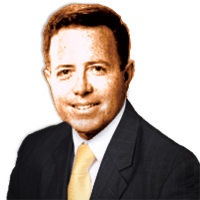 James M. Connolly
As an experienced litigation attorney who has tried a range of complex cases, Jim Connolly understands the challenges that practitioners face in a busy law practice -- and the grievances that may result.
Highly regarded for his ability to master the complications presented in professional liability, commercial and business disputes, serious tort claims, real estate flipping and fraud cases, Mr. Connolly has traveled throughout the country to defend attorneys and other professionals.  In a landmark case involving land use restrictions in the State of Maryland, Mr. Connolly applied his expertise in restrictive covenants and easements to successfully represent an entire neighborhood to win injunctions on the construction efforts of large land developers, preserving this victory through two separate rounds of appeal.
Prior to law school, Mr. Connolly received his undergraduate education from St. Alphonsus College in Connecticut and earned Master of Divinity and Master of Religious Education degrees from Mount St. Alphonsus Seminary in New York. At the University of Maryland School of Law, Mr. Connolly served as Associate Editor of the Maryland Law Review, excelled in the school's clinical law program and completed a fellowship with the United States District Court for the District of Maryland.
After receiving his Juris Doctor degree, Mr. Connolly served as litigation counsel in the Office of the Attorney General of Maryland, participating in class action lawsuits on behalf of the Department of Health and Mental Hygiene. Thereafter, Mr. Connolly represented nonprofit organizations as an attorney with the Community Law Center in Baltimore, where he litigated numerous actions for injunctive relief and administrative remedies.  Mr. Connolly is a member of the Maryland and District of Columbia bars, the bar of the United States District Court for the District of Maryland and of the United States District Court for the District of Columbia.